Since mid-1993, European American Association (EAA) has assisted Chicago Seniors through the In-Home Service Program. After years of hard work and determination, we employ over 600 Homecare Aides and serve more than 1100 Senior Clients each month. Those who help seniors know the aging process can sometimes be a lonely and frightening experience, but when there is also a language barrier, the feeling of isolation can truly be overwhelming. EAA assists English and non-English speaking clients and always attempts to match homecare aides and clients based on language and cultural backgrounds.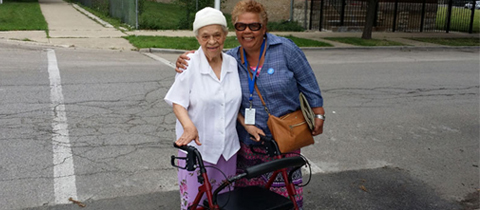 As people age, illnesses and chronic conditions often make it harder for them to do the simple tasks of daily life. Some of the first tasks that become difficult are grocery shopping, house cleaning, and laundry. As they become weaker, seniors may be unable to prepare meals or need help with eating, bathing, and dressing. This program allows our caring Homecare Aides to help in these areas of need. Homecare Aides see their clients on a regular basis, they often are the first to notice changes in the client's condition which enables us to alert the family or their health care providers of these changes. And, for some of our clients, the Homecare Aide may be the only human contact they have.
In short it's a win-win program, saving the state a huge amount in nursing home costs, while at the same time creating meaningful employment for thousands. It provides the support needed to help Senior Citizens remain at home and live independent longer while allowing them to retain a sense of dignity and self-esteem.